Are you facing hair problems like hair fall or hair thinning?
Hair loss problems are common these days. If you look at the numbers:
1 in 2 men and 1 in 4 women experience hair loss in their lifetime and 40% of these start experiencing hair loss at the age of 35.
Hair growth supplements are a boon! Not just do they help in hair thickening and growth, but they also help in providing the best nourishment to your hair.
What is a Hair Growth Supplement?
A hair growth supplement is a supplement that provides the much-needed nutrients and hair vitamins such as Vitamin B, Vitamin A, and Vitamin E to the hair and help control various hair problems.
Most of the time, your hair doesn't get all the nutrients it needs from the food sources. This is where hair growth supplements help.
These supplements for hair growth include all those nutrients in the right proportion that your hair needs.
Hair growth supplements are available in the form of oral tablets or capsules and sometimes even as herbal oils. They ensure that there are less hair fall and sustainable hair growth on the scalp.
What Causes Hair Thinning?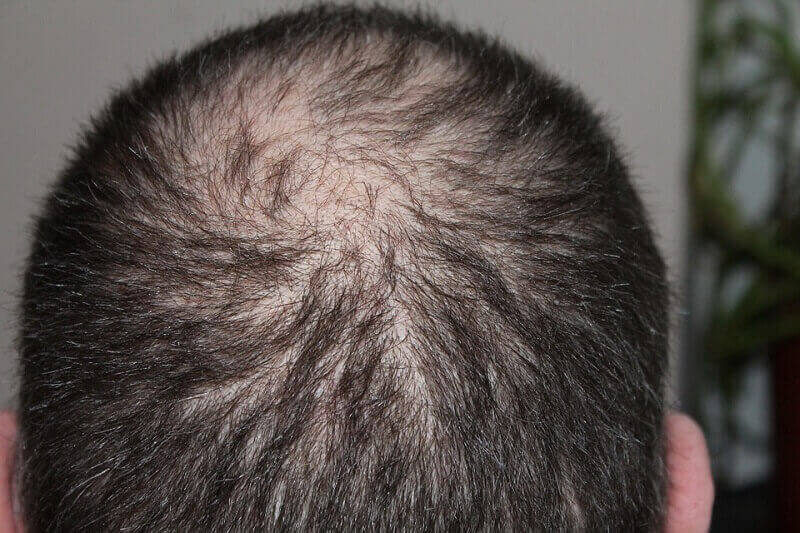 Hair loss or hair thinning is a severe concern for both males and females. Hair loss for males usually starts from the hairline and goes to the back of the head. For females, on the other hand, it is near the crown of the head.
Here are some of the common reasons for hair thinning:
Hereditary (It is the most common reasons for hair thinning, also known as pattern baldness or Androgenetic Alopecia)
Underlying diseases for example- thyroid
Poor Hairstyling/hair hygiene (excessive hair pulling in pigtails or cornrows)
Medications (regular medications for arthritis, blood thinning, depression, and heart problems can trigger hair thinning)
Poor Diet (not having enough vitamin supplementation, insufficient protein, and other nutrients intake)
Hormonal changes also result in excessive baldness (alopecia)
Excessive stress
Do check out these DIY hair masks to repair damaged hair
How do Hair Growth Supplements Work?
Hair growth supplements are made such that they straightaway target the hair follicles so that they are strengthened from the root itself.
The oral supplements present in capsule or tablet form contain all essential nutrients that your body requires for hair growth.
If you are vitamin deficient, regular intake of hair growth supplements can reactivate your oil glands, and you will notice shinier, moisturized hair with some hair growth in a few months.
It is always advised that you visit a doctor or a hair specialist to understand your hair's needs to get the best results.
Vitamins & Nutrients Vital For Hair Growth
Vitamin A
All tissues in our body require vitamin A to grow, and hair being the fastest growing tissue, are no different. Vitamin A contributes to hair growth because it ensures sufficient release of sebum, which is an oily substance that helps in nourishing the hair scalp.
Vitamin A must be taken in just the right amount as it's over intake can harm your hair. Vitamin A is present in food items such as yogurt, milk, etc.
B Vitamins
Biotin is one of the most crucial B Vitamins
B Vitamins have a wide range of benefits for hair growth and hair in general. It helps increase blood flow and ensure that sufficient nutrients and oxygen are reaching the hair follicles.
Apart from preventing hair loss, B Vitamins also ensure that hair becomes stronger and more flexible.
Vitamin C
Collagen is an essential part of the hair structure. Vitamin C helps in the production of Collagen. Also, Vitamin C contains extensive antioxidants which help to prevent oxidative stress and UV damage. Citrus fruits are all rich sources of Vitamin C.
Vitamin D
Alopecia, a condition of severe hair loss, can be caused due to Vitamin D deficiency. It helps in the production of hair follicles, which further improve hair growth. Apart from sun exposure, cod liver oil and few mushrooms are seen as good Vitamin D sources.
Vitamin E
The role of Vitamin E is more or less similar to that of Vitamin C. It also contains antioxidants. In addition to this, it helps to protect cell membranes. Vitamin E rich dietary sources are avocados, spinach, and sunflower seeds.
Zinc
Zinc contributes to hair growth by improving hair tissue growth. It also repairs the hair, making the hair structure stronger. Furthermore, it increases the rate of hair growth.
Protein
A strand of hair is nothing else but entirely protein. This makes it all the more necessary to ensure that you take protein in adequate quantities. Insufficient protein leads to a slower hair growth rate. Lentils and animal protein are rich sources of protein.
Iron
Iron is a vital mineral for all our bodily functions. Iron deficiency reduces the production of hemoglobin which is essential for hair growth. Iron deficiencies are seen more in women than in men. Rich sources of iron are jaggery spinach etc.
Best Hair Growth Supplements
There are several hair growth vitamins available in the market, but here are some of the best which you can try:
1) HealthKart Biotin Maximum Strength for Hair Skin & Nails-10000 MCG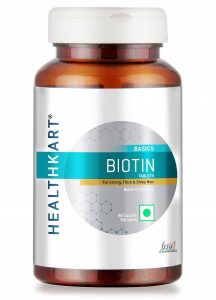 As discussed earlier, Biotin is a vital nutrient for hair growth and maintenance. It ensures the production of fatty acids, which further increases the bulb size of the hair follicles. This makes your hair look fuller.
Nutritional Information: Each tablet of HealthKart Biotin contains:
Nutritional Information
(Approx Value)
Per Serving
one Tablet
RDA%
Total Energy
Carbohydrates
Protein
Fats
Sugar
0.639 Kcal
0.146 g
0.007 g
0.003 g
0.000 g
0.027
0.012
****
****
****
Biotin
10,000 mcg
3333%
Nutritional Breakup of HealthKart Biotin
Key Features of HealthKart Biotin
HealthKart Biotin contains Vitamin B7 which is crucial for the body to convert food into energy
It regulates the Biotin levels in the body and helps in the growth and maintenance of hair and nails
As Biotin is a water-soluble Vitamin B, it can't be stored in the body. Hence a supplementation such as HealthKart Biotin helps in providing the lack of biotin in the body
It also helps in reducing the brittleness of the nails and makes them shinier
It helps your skin glow
Dosage: It is recommended to use one tablet a day with breakfast.
2) Carbamide Forte Biotin 10,000 mcg with Keratin and Bamboo Extract & Piperine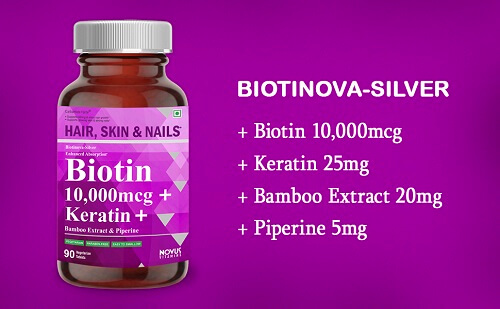 This supplement promises to improve hair volume by making the hair strands thicker and stronger.
Nutritional Information: Each tablet of Carbamide Forte Biotinova 10,000 mcg with keratin and bamboo extract & piperine contains:
Nutritional Information
(Approx Value)
Per Serving
one Tablet
RDA%
Energy Value
Carbohydrates
Protein
Fats
0.72 Kcal
0.180 g
0.025 g
0.00 g
Biotin
10,000 mcg
3333%
Calcium
90 mg
15%
Keratin
25 mg
Bamboo Extract
20 mg
Piperine
5 mg
Nutritional Breakup of Carbamide Forte Biotin 10,000 mcg (Keratin, Bamboo Extract, Piperine)
Key Features of Carbamide Forte Biotin 10,000 MCG
Biotin present in the supplement is an important nutrient that plays a key role in the growth and maintenance of hair.
It is entirely free from Gelatin, gluten, soy, fish, or sodium ingredients as it does not use capsule shells.
This vitamin for hair growth works well with the growth of facial hair, too, such as mustache hair growth and beard hair growth.
Apart from hair benefits, this hair growth supplement also has side benefits. It helps in nail and skin nourishment as well.
It is available in the tablet form and is made with 100% vegetarian ingredients.
It has Keratin, which eliminates dryness of the hair and reduces breakage and repairs the already damaged hair.
Bamboo extract prevents hair thinning and promotes glowing skin too!
Piperine facilitates better and quicker absorption of the nutrients.
It is vegetarian, available in the tablet form, and sells for 90 tablets in a bottle.
It contains absolutely no parabens and is even free of gluten.
Get it now to avail 20% discount.
3) Healthvit Biotino 5000 MCG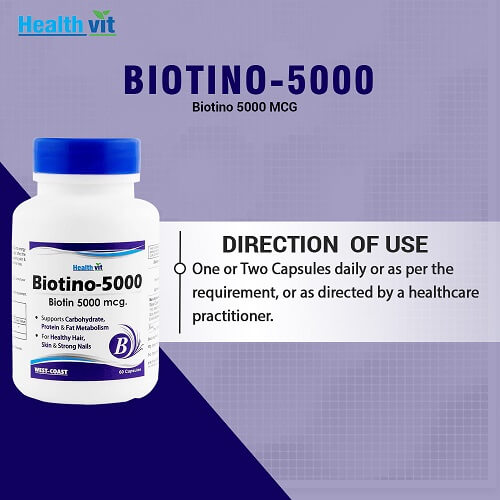 Healthvit Biotino-5000 mcg is also a good alternative as a Biotin supplement and is cost-friendly too.
Although, I would suggest you to go with the above two supplements as they are more effective, but in case you are looking for a cheap alternative, you may try this.
Here is the nutritional breakdown of each capsule of Healthvit Biotino 5000 MCG:
Nutritional Information
Nutritional Information
(Approx Value)
Per Serving
one Capsule
Vitamin B7 (Biotin)
5000 mcg
Anhydrous Lactose
Colloidal Silicon Dioxide (551)
Nutritional breakdown of Healthvit Biotino 5000 MCG
Key Features of Healthvit Biotino 5000 MCG
Each capsule of this supplement is formulated with 100% purity and contains the exact potency of each ingredient that is required in a product.
This supplement also ensures protein digestion and carbohydrate metabolism.
It has been formulated with an advanced formula that not only supports hair growth but also facilitates healthier nails and better-looking skin.
The packet contains 60 capsules for hair growth.
Dosage: Take 1 or 2 hair growth capsules per day, depending on your need as prescribed by the doctor.
These are the three mostly used hair fall tablets or supplements which gives best results.
How to Choose Vitamins For Hair Growth?
Here are some of factors to be considered while choosing a hair growth vitamin:
Cost: Some available vitamins for hair are way too expensive, and some supplements have an individual tablet for each vital vitamin. Such supplements can cost you too much.
It is advisable to go for the supplement that contains all the necessary nutrients your hair would need in a single pill. You must thus, choose your supplement smartly so that it doesn't pinch your pockets but still serve the purpose.
Effectiveness: It doesn't matter if the supplement is low in cost; what matters is that it should be effective. Take into consideration the potency of each nutrient present in the capsule.
Ease of Usage: Some people really find it difficult to swallow a pill or a capsule because of its size etc. For those who have a hard time taking capsules, some of the supplements are available in the form of herbal hair growing oils too!
They are easy to apply and just require a little bit of massaging into the scalp.
Customization: Everyone has a different hair type and the same pill may not suit every person. Hence, it is essential to check all ingredients and read the proper details of the supplement before finalizing it.
You know yourself and your hair the best, so it is suggested to consider each specification to avoid blunders!
Side Effects of Hair Growth Supplements
Supplements are not for everyone; thus it is advisable to consult a doctor before making the final decision. There are no adverse side effects observed till now. However, there might be a few minor issues in some cases, including:
It is, though, possible to minimize the risks of the side effects by mixing the right dosage of the supplement with a healthy diet.
Suggested Diet Changes for Hair Growth
You must not wholly rely on the supplements for enhanced hair growth, but should look to incorporate certain food items to ensure healthier and faster hair growth. These are the foods which are storehouses of the nutrients that your hair requires. They are listed below-
Eggs for Protein
Nuts and Seeds for Omega 3 and Fatty Acids
Citrus fruits like oranges for Vitamin C
Carrots for Vitamin A
Whole Grains for Biotin
FAQs
Q) Can hair growth supplements make my hair healthier?
Ans- Nutrients help to provide life to your otherwise dead hair as they are food for the hair. Supplements nourish the hair strands inside out! Biotin present in the supplements helps to improve the health of your existing hair and also improve hair growth.
Q) Will it harm my body when I stop taking the hair growth supplement?
Ans- There are no known side effects or any such withdrawal symptoms that you may suffer from after you decide to discontinue the supplement. Since such supplements are 100% drug-free, you don't get addicted to them.
Q) Do hair growth vitamins affect the hair growth on other parts of the body?
Ans- A hair growth supplement is devised such that it only stimulates the already existing follicles. The hair on other parts of the body does not increase. The hair follicles of the other parts are active only in phases and not otherwise. So there is no chance that the supplement will target those follicles.
Q) When can the results of the supplement be observable?
Ans- Usually, it takes a minimum of 2-4 weeks to start noticing the slightest of changes in the quality of hair. Most supplement brands recommend using the supplement for about 60 days to be able to see proper results since the hair growth process is largely a slow one.
If you find this article valuable, please share it with your loved ones. If you have any queries regarding hair supplements, feel free to ask us in the comments below.