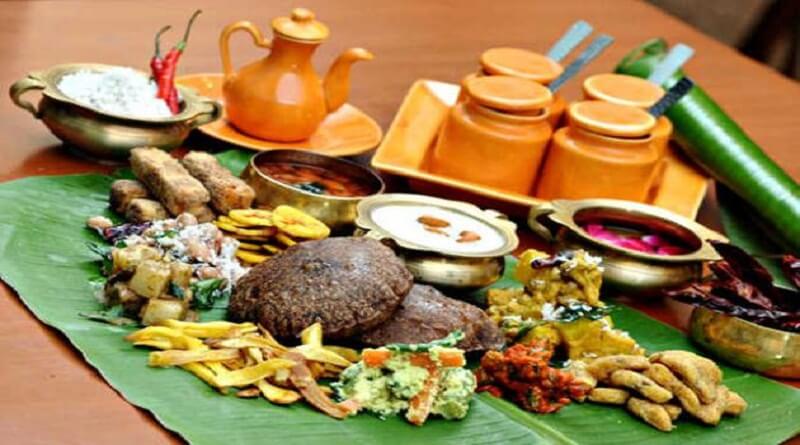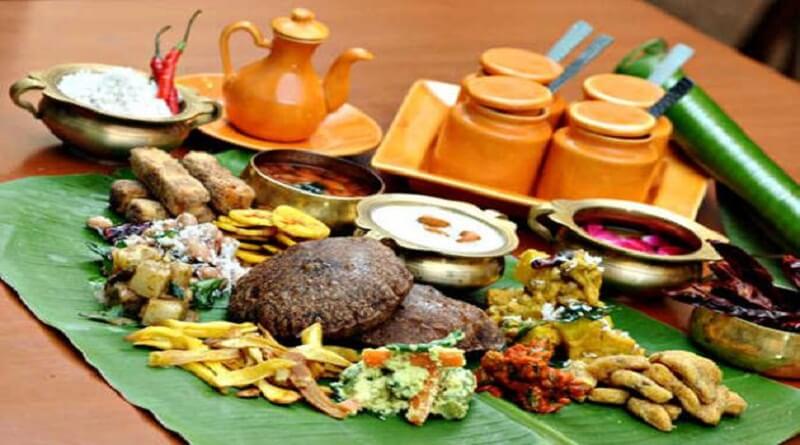 Navratri is a celebration devoted to the love and worship of the Hindu Goddess Durga. In Sanskrit, Navratri means nine nights and during these nights, nine different forms of Devi are worshipped. For some people fasting is easy and for some, it is not, so we are going to reveal some of the amazing yet healthy Navratri fast recipes you can make easily and keep your food cravings at bay.
Foods Allowed During Navratri Fasting
1. Spice and herbs 
Black pepper, Sendha Namak (rock salt) and black salt (Kala Namak)
Cumin powder (Jeera)
Ajwain (carom seeds)
Ginger
Mint leaves, Coriander leaves and curry leaves
Green chilli
2. Vegetables 
Potatoes
Pumpkin
Raw banana
Arbi
Tomatoes
Raw papaya

Sweet potato
3. Flours
Kuttu ka atta (buckwheat flour)
Rajgira ka atta (Amaranto flour)
Singhare ka atta (water chestnut flour)
Sama ke Chawal (barnyard millet)
Arrowroot flour
4. Others 
Sabudana (Tapioca Pearls)
Makhana
Paneer
Curd
Cream
Ghee
Khoya
Malai
White butter
Almonds
Raisins
Walnut
Cashew nuts
Pistachio
Dried fig (Anjeer)
Date
All fruits
Honey and sugar
Coconut and coconut milk
Cucumber and peanuts
Tea
Foods to Avoid During Navratri Fasting
Garlic
Onion
Turmeric
Hing (Asafoetida)
Garam masala
Mustard
Fenugreek seeds
Dhania powder (Coriander Powder)
Lentils
Legumes
Common salt
Non-vegetarian food
Alcohol
Corn
Oats
Corn starch
Sunflower oil
Coffee
Besan (chickpea flour)
Rice
Rice flour
Wheat flour
All purpose flour (maida)
Sooji
Healthy Navratri Fast Recipes:
1. Fruit Salad With Cashew Cream
It is one of the easiest and healthy Navratri fast recipes to make which can also be consumed on a daily basis. All fruits are allowed to be consumed during the Navratri festival. You can simply chop up fruits and sprinkle some black salt on it or you could make a fruit salad with cashew cream.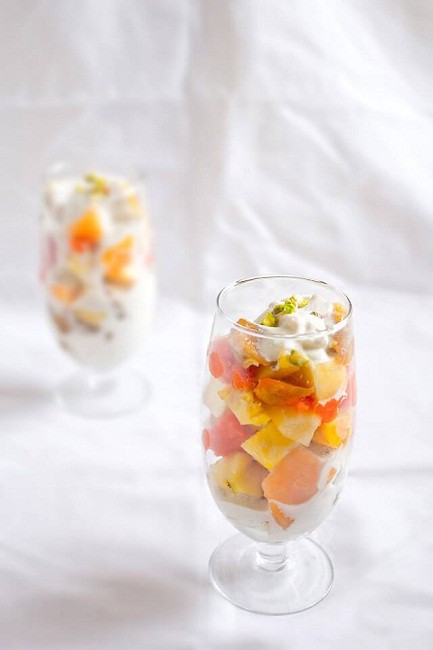 2. Sabudana khichdi
Sabudana khichdi is very much common during the Navratri festival. It is really healthy and tastes good as well.
3. Kuttu ka Dosa
Kuttu ka dosa is another very common Navratri dish which is so delicious that you would want to eat it all day! This dosa is made with kuttu ka atta, also known as buckwheat flour, with some potato filling.
4. Dahi Aloo (Curd and Potato)
Dahi aloo is an easy and healthy Navratri fast recipe to make. It contains only a few ingredients and takes about thirty minutes to prepare.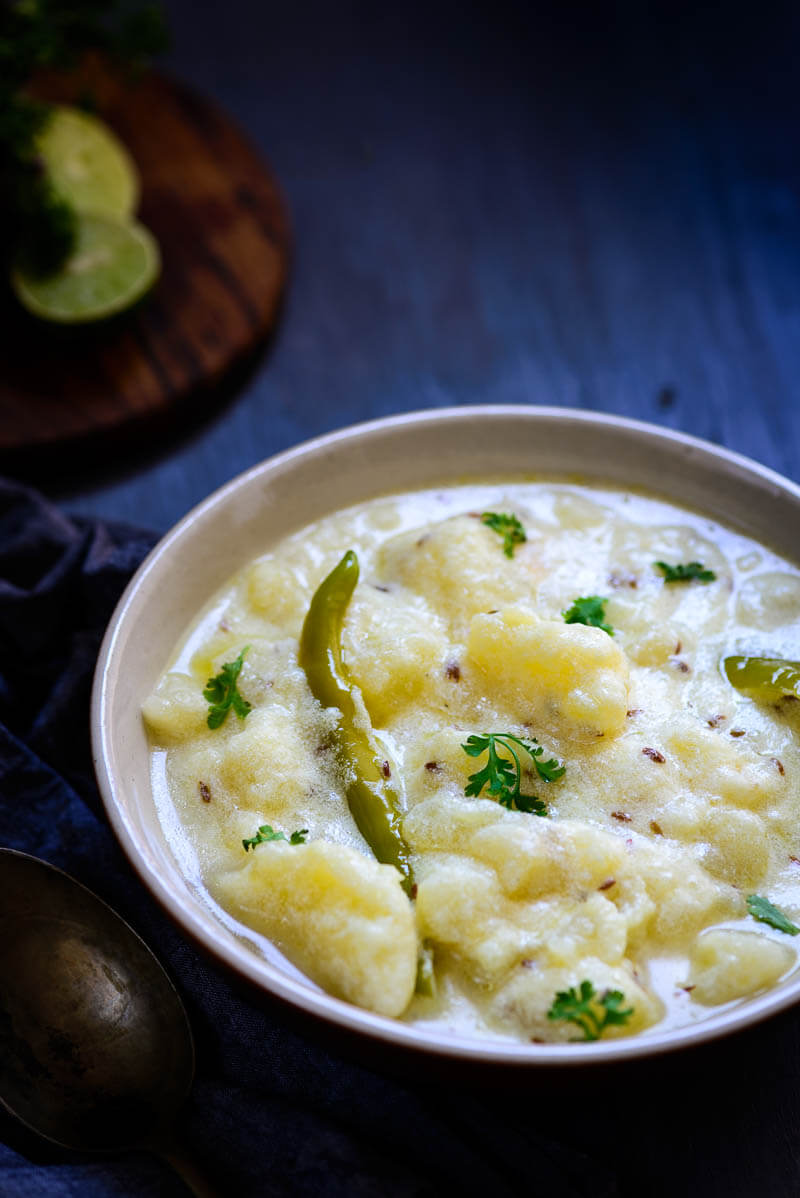 5. Walnut and Banana Lassi
The idea of lassi containing banana and walnut might not look pleasing to everyone but surely it tastes amazing. You can make walnut and banana lassi pretty quickly with just four ingredients.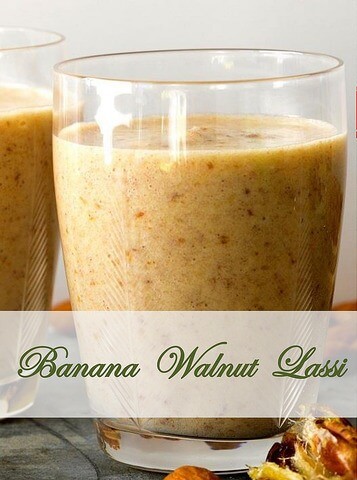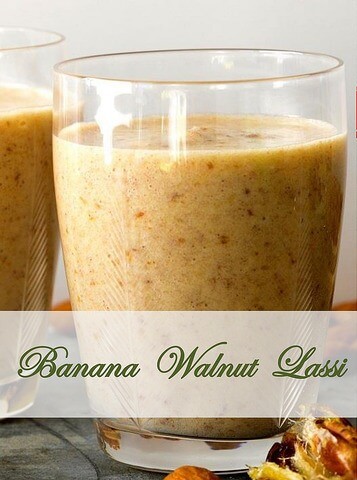 6. Aloo Paneer Kofta
You can relish crispy, mouth watering aloo paneer kofta during your Navratri fasting. Just substitute corn flour with fasting flour like buckwheat flour aka kuttu ka atta, water chestnut flour aka singhare ka atta or Arrow Root flour and savour the taste with green chutney.
7. Sabudana kheer
If you are talking about Navratri food then it is impossible to ignore Sabudana kheer. If you are fasting and crave for something sweet then you can quickly make this delicious kheer.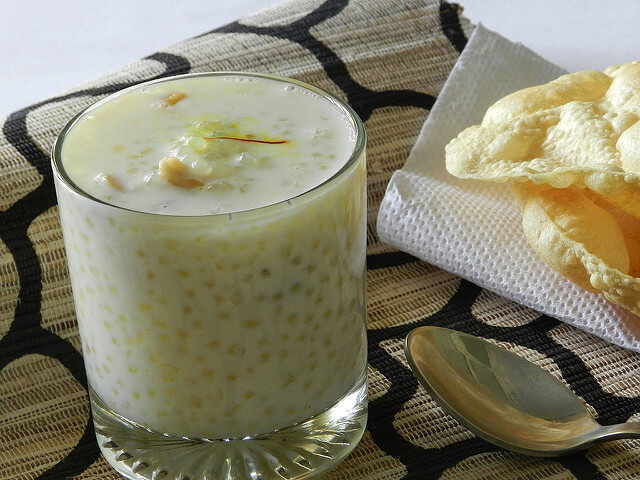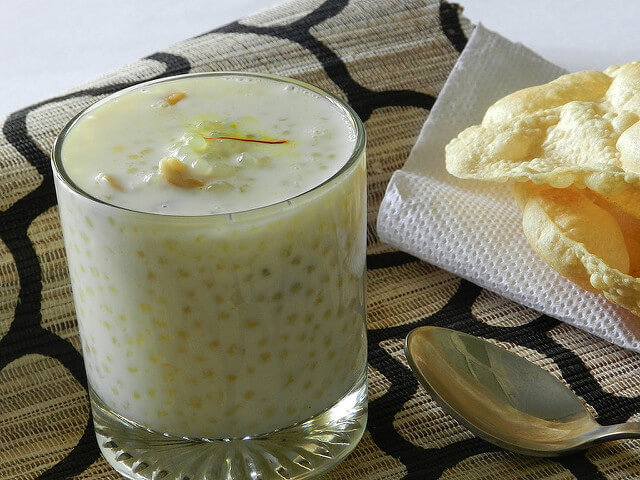 8. Arbi chips
Arbi or Colacasia Root is one of the many vegetables people usually end up eating during Navratri fast. Crispy textured Arbi chips are one of the best snacks you can relish while following your fasting days. To hive a healthy twist, you can bake them too. These are light yet at the same time will kill your hunger.
9. Grape Chutney
Grape Cinghutney is not that common but is best when you are fasting. It is easy and can be served with Sabudana vada, Phalahari Thalipeeth or any other snacks during the time of fasting.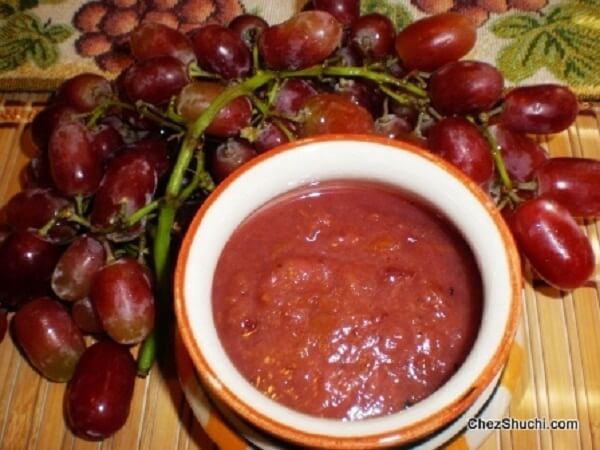 10. Eggless Buckwheat Banana Muffins
Muffin cravings are pretty bad, especially when you are fasting. Navratri special muffins are usually not available in the market but don't worry, you can make it one yourself using banana and buckweat flour. Not only are these soft, spongy and moist, they will please the taste buds when you get bored of usual meals and are healthy too.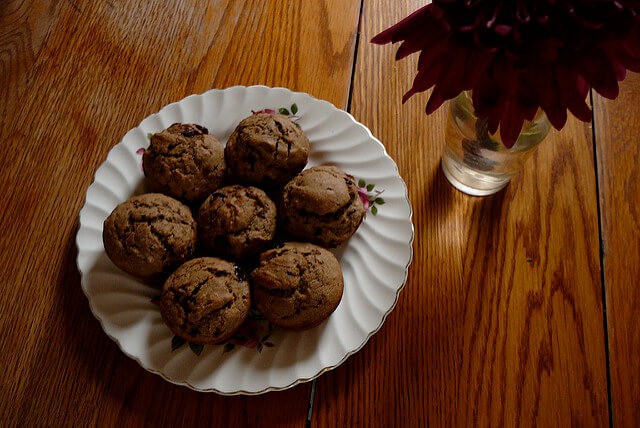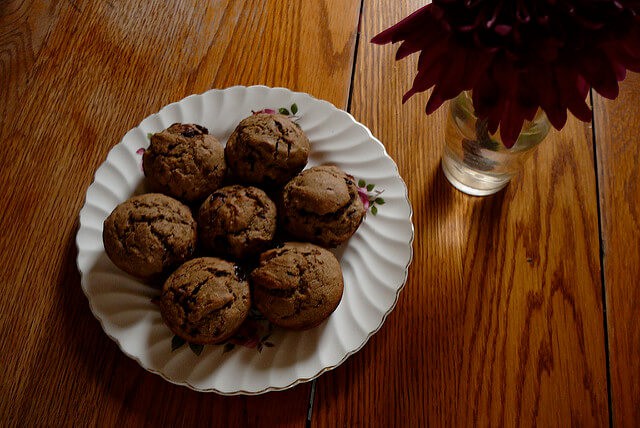 Though Navratri period is celebrated and followed by many people as the celebration and devotion towards Maa Durga, on a side note, it is one of the best ways to lose weight and be healthy as fasting is good for your health.
So this season, try these amazing and healthy Navratri fast recipes and share your experience with us. If you think we have missed an amazing recipe here, feel free to mention it in the comments.
Happy Navratri!