Essential oils have been used since ancient times for their medical and health benefits. They are safe, natural and effective and have a number of properties like antiviral, antidepressant, anti-bacterial and anti-oxidant. Even one drop of essential oil can have a soothing effect on you. Essential oils are the essence of a plant or herb that is derived through distillation or cold pressing. They are extracted from leaves, roots, bark, resin, rind or flowers. The flavour of the plant or herb gets concentrated and is extracted in the form of oil. So, in this article, you will be getting information on how to use essential oils for your overall beauty.
Select Your Favourite Topic Below:
Classification of Essential Oils
How to Use Essential Oils For Skin Care?
How are Essential Oils Beneficial For Skin?
Best Essential Oils Based on Different Skin Types
Best Essential Oils For Hair Care
Best Essential Oils to Reduce Belly Fat
Best Essential Oils For Massage
So let's start with the classification of essential oils –
Classification of Essential Oils
All essential oils fall into one of the three categories, i.e., top, middle and base note. They are differentiated based on their fragrance and the part of the plant or herb from which they are derived.
Top Note
The essential oils falling under this Top Note category are light and rejuvenating. They help in refreshing you and putting you in a good mood. They are volatile and gentle and evaporate quickly when exposed to the sun. Such oils are used for treating depression, anxiety, fatigue, and dullness. They have a strong smell and inhaling these oils stimulates a healing process in the body. Peppermint oil, orange oil, sage oil, basil oil, cinnamon oil, eucalyptus oil and thyme oil are a few examples that fall in this category.
Middle Note
The essential oils that are derived from spices and herbs fall under this category. They are good for your overall health. A majority of the essential oils fall under this category. They have a balancing effect on you. The fragrance of these oils takes some time to come to you. They have a warm and soft scent. A few examples of essential oils coming under this category are black pepper oil, cardamom oil, chamomile oil, fennel oil, juniper oil, nutmeg oil, rosemary oil, etc.
Base Note
The essential oils that have a strong whiff fall in this category. They are very evident and linger around for a long time. They do not evaporate quickly. These oils are rich and rejuvenating and calm down the senses. They are usually expensive. A few examples are clove oil, ginger oil, jasmine oil, rose oil, sandalwood oil, etc.
How to Use Essential Oils For Skin Care
Have you added essential oils to your skincare regime yet? If not, you must! Essential oils work wonders on your skin. They reduce skin blemishes, spots and improve the complexion and elasticity of your skin. Read on to know how to use essential oils and how it benefits your skin.
Following are the ways in which you can incorporate essential oils into your skincare routine:
1) One of the easiest and simplest ways is to simply take 2-3 drops of essential oil on your fingers and gently massage it on your skin.
2) You can add 2 drops of essential oil to 1 teaspoon honey and use it as a facewash.
3) You can combine a few drops of essential oil with a carrier oil like coconut oil or olive oil and apply it to the skin that has developed blisters or rashes.
4) You can make a homemade lotion by mixing a few drops of your favourite essential oil to shea butter. For better results, add Vitamin E capsule contents in it. Voila! You have made yourself a moisturizer.
5) Add a few drops of essential oil to 500 ml water. Add the mixture in a spray bottle. Shake it well and spray it on your face to freshen up the skin.
6) Adding a few drops of essential oils to cold or hot compress will promote wound healing in your skin.
7) Mix Aloe Vera with essential oil for a cooling effect on the skin.
8) For relaxing and soothing the skin, add a few drops of essential oil to your bath.
9) You can make a home-made scrub by adding a few drops of essential oil to the sugar, yoghurt, and whole wheat flour.
How are Essential Oils Beneficial For Skin?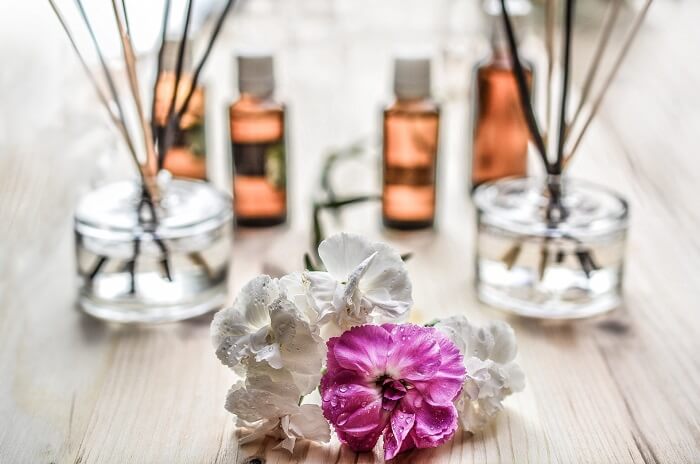 1) Essential oils have antibacterial and anti-fungal properties. They contain compounds like phenols, esters, and ketones that fight the bacteria or fungi. Oils of cinnamon, tea tree, peppermint, and ginger will protect you from skin infections.
2) Essential oils help in calming down inflamed skin conditions like dermatitis and eczema. They help in quickening the healing process.
3) Many young women these days have skin problems that occur as a result of hormonal imbalance. It could be because of PCOD or thyroid hormone imbalance. Much emphasis is placed on diet and exercise for treating these imbalances. But did you know that some essential oils can help you in balancing your hormones?
Geranium, thyme and sage essential oils help to achieve a balance between estrogen and progesterone. When the hormones are balanced, the skin automatically improves.
4) Detoxification helps in eliminating the toxic waste products from the blood. This gives you a healthy complexion and clears the skin. A few essential oils act like diuretics essential oils flush out the toxins. Parsley, lemongrass and ginger oils are great for detoxification.
5) Sleep is very essential when it comes to having great skin. Lavender, chamomile and ylang-ylang oils help in giving you a peaceful sleep which works great for your skin.
6) One of the reasons for acne could be indigestion. Essential oils like ginger, fennel, lemongrass, and peppermint promote digestive health. They can relieve constipation and help you to get that clear skin.
7) Essential oils help in clearing spots, reducing signs of ageing and clearing acne. They are also capable of protecting your skin from the harsh sun rays.
Essential Oils Properties
Given below is a simple essential oil properties chart for you to choose from among the most common essential oils depending on their properties.
| | |
| --- | --- |
| Essential Oils | Properties |
| Lavender Oil | balancing, calming |
| Chamomile oil | calming, relaxing, soothing |
| Peppermint oil | fresh, antimicrobial, stimulating |
| Rosemary oil | fresh, reviving, gives mental clarity |
| Lemon oil | refreshing, purifying, uplifting |
| Tea tree oil | antimicrobial, calming, refreshing |
Best Essential Oils For Different Skin Types
Essential Oils For Oily Skin: Tangerine, Cypress and Lemon
Oily skin is prone to bacterial infection and acne formation. Tangerine, Cypress and Lemon oils are rich in antioxidants that remove the toxins. They kill the bacteria and improve blood circulation. They also help in purifying the blood which improves the quality of the skin.
Essential Oils For Acne and Black Spots: Germanium, Lavender and Vetiver
Geranium oil helps you to get a radiant skin. It is one of the best oils to use if you are suffering from acne. Geranium oil prevents infection and kills the bacteria that may be responsible for acne. It helps in bringing down the irritation of the skin. It also improves blood circulation.
Lavender oil is a great anti-oxidant and anti-microbial. It improves the complexion and reduces acne. It reduces the spots and blemishes on the skin and brings down inflammation.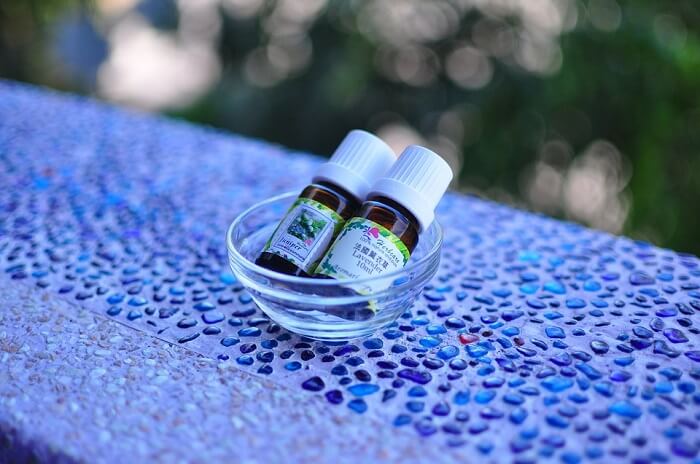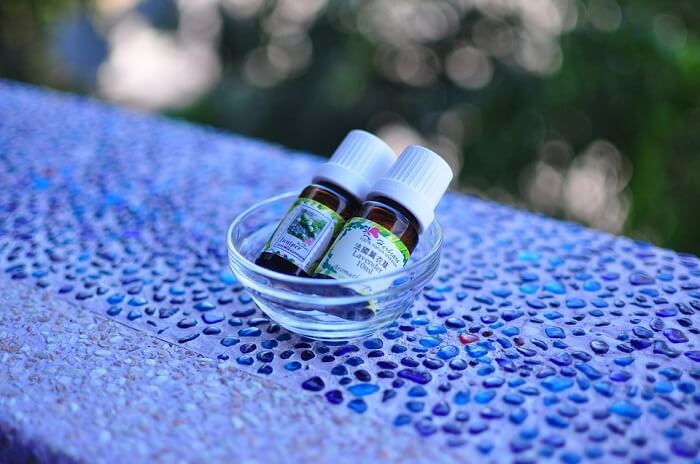 Vetiver oil acts as a catalyst in reducing the scars and blemishes on the skin. It has antiseptic properties and also reduces inflammation. Sometimes, the acne may cause inflammation which may, in turn, increase the instances of acne. It helps in the growth of new tissues which accelerates the healing process. So applying Vetiver oil can be of a great benefit.
Essential Oils For Dry Skin: Sandalwood, Cedarwood, Myrrh
Dry skin may cause itching and lead to rashes. It can lead to skin infections and conditions like eczema. Sandalwood oil has cleansing properties that rejuvenate the skin. Research has proven that sandalwood oil is a great remedy for dry skin.
Cedarwood oil brings down inflammation and is a solution to many skin problems including eczema. It has antiseptic properties and prevents bacterial or fungal infections. It also improves the blood circulation in that area. So add it to your lotion or just directly apply it to your skin to see the results.
Myrrh oil is derived from the sap of the Commiphora myrrha tree. It has properties that reduce the dryness and itching and gives you relief from the chapped or cracked skin. It reduces inflammation and calms down the skin.
Essential Oils For Skin Ageing: Ylang-Ylang, Rose, Carrot Seed 
Depression and stress are major causes that accelerate the ageing of the skin. Ylang ylang essential oil is effective in treating depression and stress. It keeps the skin hydrated, soft and young-looking.
As you age, the skin tends to become dry and loses lustre. Rose oil keeps the skin moisturized and gives it a healthy glow.
Oxidative damage causes the skin to age rapidly. The carrot seed oil contains a high amount of carotene which is one of the best antioxidants. It fights free radicals and prevents their damage to the skin. This results in youthful skin. It also prevents the early appearance of wrinkles.
Essential Oils For Combination Skin: Bergamot, Orange and Patchouli
When it comes to combination skin it can be difficult to choose one oil that serves all the purposes. But don't worry as there is a solution to that too. Bergamot oil is part of a range of skincare products. It helps in clearing the scars and blemishes. It helps to even out your skin tone by evenly distributing the pigments on the skin.
Orange oil is refreshing and uplifts the skin. It gives relief from inflammation, regularizes the secretions on the skin and also has great anti-bacterial properties.
Patchouli oil has a balancing effect. It nourishes the skin and brings down dryness. It breaks up the cellulite and helps in building up new skin tissues.
These oils can be used by people who have combination skin.
Essential Oils For Hair Care
Essential oils have a great effect on your hair. They can be used for stimulating hair follicles, improving their strength and getting rid of dandruff and dry scalp. They have a nourishing effect on the scalp. So if you are tired of switching hair care products it is time to try essential oils. Choose from the following essential oils and experience the great effects it will have on your hair!
Best Essential Oils For Promoting Hair Growth
Lavender Oil: Research has shown that lavender oil increases the number of hair follicles on your scalp. It also makes the hair follicles thick and strong. It has antimicrobial properties that help in getting rid of bacteria or fungi.
How to Apply: Mix a few drops of lavender oil with coconut oil and massage it on the scalp gently. Leave it on for 2-3 hours and wash off normally. You can repeat this remedy three times a week.
Chamomile Oil: Have your hair lost all the lustre and shine? Chamomile oil will add an instant smoothness and shine to your hair.
How to Apply: Add a few drops of chamomile oil to 1 tablespoon sea salt and one-third cup baking soda. Mix well and apply this paste to your scalp. Massage the scalp well and leave it on for 30 minutes. Wash it off with lukewarm water.
Rosemary Oil: For thick and long hair, use rosemary oil. It increases cellular metabolism which increases hair growth. It boosts the health of your hair by preventing drying of the scalp and dandruff.
How to Apply: Add rosemary oil with olive oil and massage on your hair for 10-15 minutes. Wash your hair after 4-5 hours.
Bergamot Oil: Bergamot essential oil is a great choice if you are having a dandruff problem with an oily scalp. It improves the circulation of blood to the scalp and enhances hair growth. It also prevents fungal infections on your scalp.
How to Apply: Take a few drops of bergamot oil on your fingers and gently massage it into your scalp. You can also add it to your shampoo or conditioner.
Tea Tree Oil: Tea tree oil has a great antimicrobial property. To increase the hair follicles apply it topically on the scalp.
How to Apply: You can add a few drops of tea tree oil in your shampoo and use it for washing your hair.
Best Essential Oils For Sleep
We all have those days when falling asleep becomes difficult. We feel tired as hell but the sleep just doesn't seem to descend. In this case, using essential oils can be of great help. Given below are some of the best essential oils to choose from for getting a sound sleep.
Lavender Oil: It is no surprise that Lavender oil tops the list. Many studies have proven that lavender oil has great calming and relaxing properties. It brings down the heart rate, blood pressure and temperature of the skin. Inhaling it before going to bed, or putting a few drops on the pillow will surely give you a sound sleep.
Roman Chamomile Oil: Next in line is Roman Chamomile oil. Chamomile also has a relaxing, calming and soothing effect on you. It relieves insomnia and panic attacks and has a delicate flowery aroma which creates a perfect atmosphere for sleeping.
Ylang Ylang oil: Ylang ylang has a sweet fragrance which resembles a combination of flowers and fruits. If you have been suffering from depression or other sleep-related issues then using ylang-ylang oil can benefit you largely.
Bergamot oil: Bergamot has a spicy flavour which is usually stimulating but in this case, it is also warm and relaxing. It brings down the heart rate, blood pressure and calms down the nerves. It also helps in bringing down stress and anxiety.
Cedarwood oil: Cedarwood has an earthy smell which can be a great replacement if you are not fond of the flowery scents. It is also quite affordable. It stimulates the production of serotonin and enhances your mood.
How to Use Essential Oils For Sleep –
Here are a few interesting ways to use these essential oils –
1) Put a few drops of essential oils on your palms and rub them together. Inhale the scent by cupping your palms over your nose.
2) Put a few drops of essential oil on a handkerchief or a towel and inhale it.
3) Put a few drops of essential oil on your pillow before you go to bed.
4) You can buy a diffuser and put a few drops of essential oil in it. In a few minutes, your room will get filled with the fragrance of the essential oil.
Best Essential Oils to Lose Belly Fat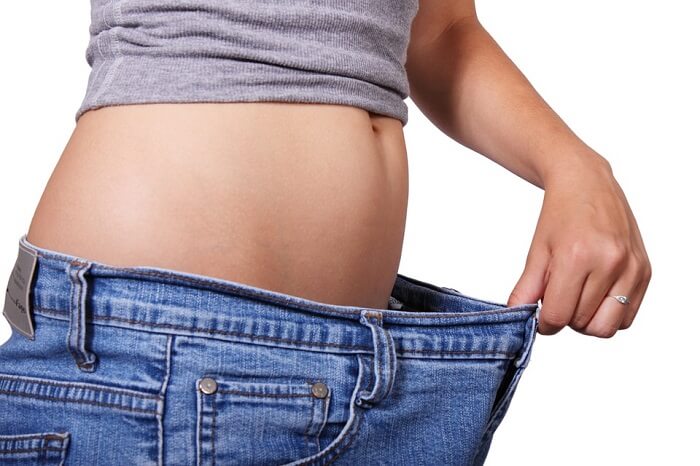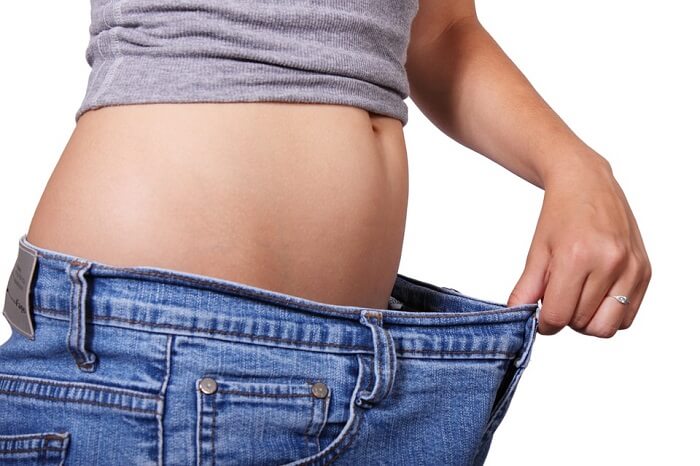 There are a lot of factors that play a key role when you wish to achieve healthy body weight. While enough emphasis has been put on diet and exercise, there are a few more things that you can do to catalyze the process. Essential oils have small but very important effects on your appetite. Make them a part of your weight loss regime and feel the difference.
Grapefruit Oil: Grapefruit oil acts as an appetite suppressant. It aids the detoxification process and prevents water retention. It activates AMPK which helps in burning more amount of fat. Put a few drops of therapeutic grapefruit oil in lukewarm water and drink it. Preferably it is good to consume it in the morning as it increases the metabolism. You can also inhale it or apply it to your hands or nose.
Peppermint Oil: Peppermint is great for reducing bloating. It also prevents strong cravings. Add a few drops of edible peppermint oil to lukewarm water and consume it before meals. It will prevent overeating. You can inhale peppermint oil to suppress your appetite. Put it in a diffuser to control your cravings.
Lavender Oil: Lavender oil is great when it comes to curbing episodes of emotional eating or stress eating. It lowers the cortisol levels in the blood that inhibit the accumulation of excess fat. Inhale lavender oil or put it in a diffuser so that your room is filled with that fragrance.
Cinnamon Oil: Cinnamon oil helps in bringing down the cholesterol level and balancing the blood sugar levels. And as a result, there are fewer cravings and instances of overeating. You can put a few drops of cinnamon oil in your tea. But make sure that it is free from toxins and is edible. You can also inhale it, apply it topically or put it in a diffuser.
Ginger Oil: Ginger oil helps in losing belly fat by reducing inflammation and enhancing the absorption of nutrients. It brings down the cortisol levels which may be causing the weight gain. Add a few drops of edible ginger oil to lukewarm water along with some honey and lime juice and drink it. Alternatively, you can also inhale it to suppress the appetite.
Best Essential Oils For Massage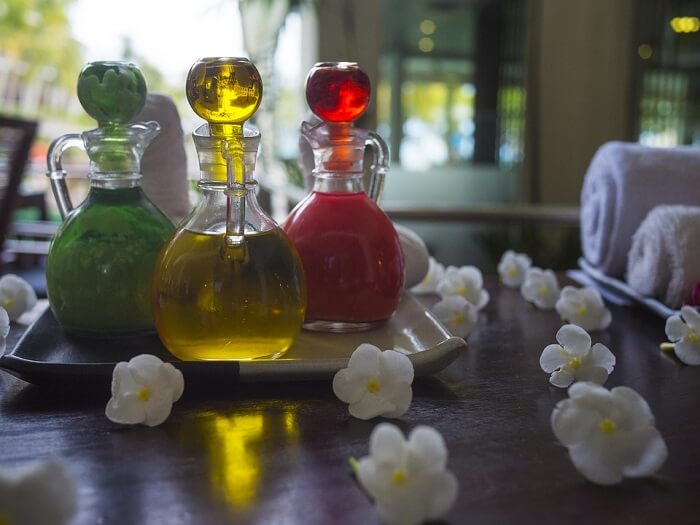 Using essential oils for an aromatherapy massage has physical as well as emotional benefits. Have a look at the best essential oils for massage.
Lavender Oil: We have already discussed it's balancing effect on the body and mind above and that it is ideal for people suffering from insomnia, headaches, muscle pain and anxiety.
Geranium oil: Geranium oil is a great option to use for massaging women suffering from menstrual disorders. Women having postmenopausal mood swings benefit a lot from the massages with geranium oil.
Bergamot oil: Bergamot has a spicy and citrusy fragrance. It improves the mood and helps in dealing with addictions. Bergamot is sensitive to the sun and so you should avoid stepping out in the sun after massaging with this oil.
Frankincense Oil: It has a very relaxing effect on the body and mind. Individuals suffering from breathing difficulties or respiratory ailments can benefit a lot by adding frankincense oil to your massage oil. It has antidepressant properties which uplift your mood.
Peppermint Oil: Peppermint oil can be used for massage by athletes or individuals suffering from severe body pain. It relaxes the muscles and has a warm effect on the skin. Be careful and do not add large amounts of peppermint oil to the carrier oil.
The reason why essential oils have so many benefits is that it is a concentrated product of all the healing compounds in a plant or herb. You can add these aromatic oils to your bath or simply rub them on your skin to feel fresh instantly. Make sure you use them the right way to get their full benefit. Consult an aromatherapy professional to make sure that the oil suits you.
Leave your comments below to share your views on the topic or have any questions on how to use essential oils for a specific cause. Also, share the article with your near and dear ones to help them extract benefits from these essential oils.