Physical activities are always good for health but sometimes people who do physical activities or exercises daily can experience various problems, and the most common among these are knee pain and Runner's knee, also known as Patella, is a condition in which cartillage under the knee cap gets damaged.
Some physical activities such as walking, running, hiking, and weightlifting may result in knee pain. Thanks to knee support products which have made the lives of health freaks easy and help them get back to their favourite activities.
Knee Braces and Knee Sleeves are really effective in preventing these knee related problems and injuries. So, in case you want to try knee braces, I have included the top knee braces and knee sleeves for running and other activities, based on my research and experience analyzing the products.
What is a Knee Brace?
A knee brace is a knee supporting wear which is used to prevent knee injuries during sports and also used in case of knee surgery, mild to moderate arthritis, or any type of knee pain or injury.
A knee brace is available in many sizes, colours and designs and is used for a range of knee conditions.
How a Knee Brace Works?
Knee Braces are made up of combinations of metal, foam, plastic, elastic material and straps that helps to protect your knee from knee injuries and support the knee from causing major damages.
Apart from knee injuries, knee braces are also used in –
Sprains
Swelling
Bursitis
Cartilage Irritation
Patellar Tendonitis
Chondromalacia Patella
Arthritis
It can also be used in conjunction with other forms of treatment or therapy, such as physiotherapy or medication.
Various designs are used to offer compression to the knee, so that it supports the muscles and ligaments.
Knee braces can maintain heat within the knee, which can help increase blood circulation and promote healing.
If you are using Knee brace for a medical condition, you should use it as per your doctor's direction as different braces control different problems.
Types of Knee Braces
There are different types of knee braces available in the market which are used in different purposes, including –
1) Functional Braces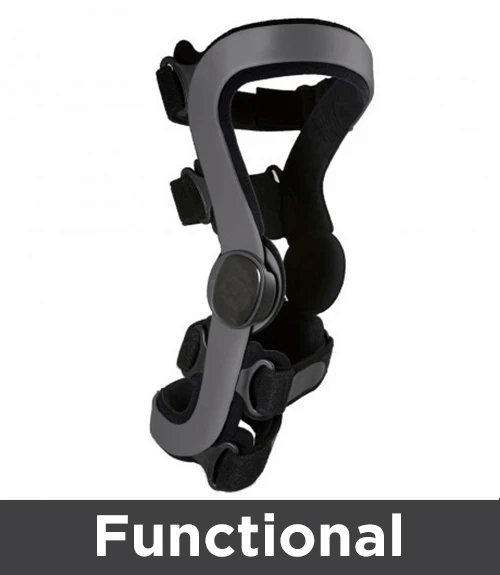 Functional brace is used by patients who have already suffered from knee injuries to give support to the knee. Athletes use these knee braces after they have recovered from a major injury. These braces stabilize the knee and prevent it from further injury by controlling the motion.
They are also used for reducing rotation, ligament tears and are tailor made for those who require additional support after ACL (Anterior cruciate ligament) repair surgery.
In some cases, they are also used to support mild to moderate PCL (Posterior Cruciate ligament) or MCL (medial collateral ligament) injuries.
2) Rehabilitative Knee Braces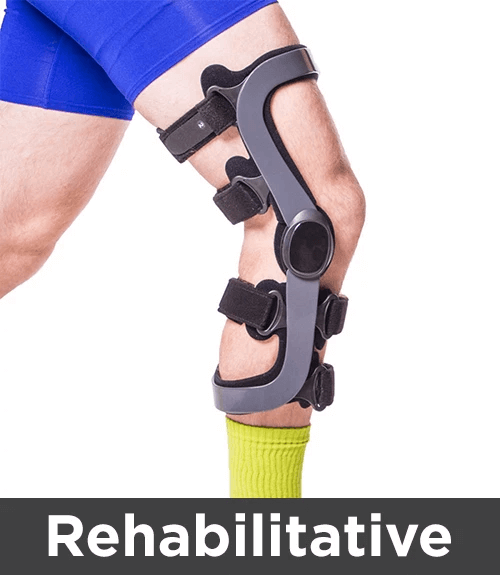 Rehabilitative Knee brace is used for a limited span of time (2-4 weeks) after an injury or medical surgery.
It not only keeps the knee stable but allows a little movement while the injury is healing.
Generally, it is used to protect a reconstructed or repaired ligament and allow early motion of the knee joint by preventing the knee from any recurring injury.
3) Prophylactic Knee Braces
Prophylactic knee braces are fabricated to suppress and reduce the severity of ligamentous injuries to the knee.
They are used by athletes who play contact sports like football, soccer, and rugby.
These braces protect the MCL (medial collateral ligament) from knee stress, and also protects the knee from any previous injury.
4) Unloader Knee Braces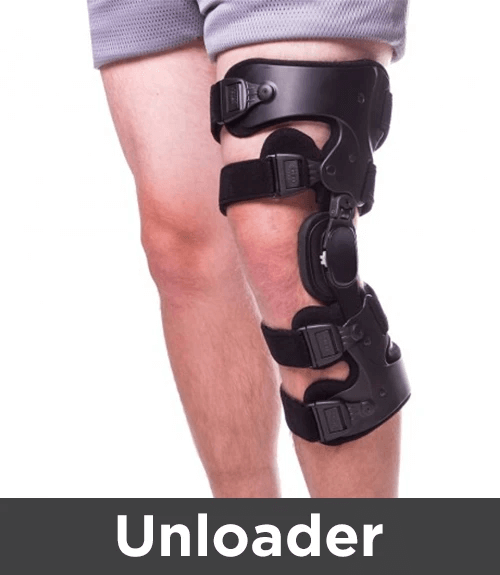 Unloader/Offloader knee braces are designed to provide relief to people that have Arthritis and individuals who suffer from knee osteoarthritis.
These braces are specially designed to unload the stress from the affected knee area to the stronger area such as thigh bone.
It is also helpful for people who are planning to go for knee replacement surgery and want to take stress off their knees beforehand.
5) Knee Sleeves
Knee sleeves are not exactly knee braces but are commonly used to give compression around the knee joint and protect the knee from pain and swelling.
You Might Also Be Interested in – Accupressure Points For Common Body Pain
Factors to be considered While Purchasing Knee Sleeves
Key factors to be kept in mind before buying knee sleeves are –
Thickness: The thickness of the knee sleeve decides how much potency and support it possesses. Thin knee sleeves are used by athletes who play running games or activities that require high mobility and thick sleeves are used mainly in weightlifting and other stationary exercises.
Padding: Padding gives extra comfort to the knee area and is required in games such as basketball and volleyball. But these braces will be inconvenient if you are using them for running or weightlifting.
Purpose: Various products are marketed for various specific purposes, be it running, weightlifting and other activities. You can choose specially designed sleeves according to your specific purpose.
Best Knee Braces and Knee Sleeves For Different Activities
Here are some of the best knee braces and knee sleeves for running and other physical activities –
1) OBLIQ Hinged Knee Braces for Men/Women
OBLIQ has a wide range of supporting accessories like kneecap sleeve, elbow sleeve, ankle sleeve, and hinged knee support brace. OBLIQ Hinged knee brace helps relieve pain and protect from any further injuries.
It gives perfect fittings with readjustment facility, uses improved material for sweat absorption and maintains the blood circulation so that your knee can feel fresh even after the exercise session. As it has no gears, it can fit on either side of your leg.
Key Features:
Provides Stability: Hinges are present on both sides of the knees that provide extra support, both medial and lateral.
Injury Brace: As it is made up of compressive material, it gives support to the ligament, joints and muscles.
Sweat Proof: Its improved funnel material helps to prevent skin irritation and absorb sweat. It has silicon gel to prevent the brace from slipping down. Also, the latex free material gives thermal compression.
2) Fashnex Support Sleeve
Fashnex Support Sleeve can be used for running, gym and many other activities. It uses high quality fabric which doesn't restrict the normal movement of the user.
Key Features:
Relieve from Pain: It reduces the pain and helps to recover from the injuries like arthritis, post surgery injury, swelling etc.
Joint Shield: It is made up with 3D circular knitting technology to redistribute the knee pressure for activities such as basketball, tennis, golf, football, weight lifting, and gym training.
High Quality: It is made up with Premium Nylon & Latex blend. It has an ultra durable, breathable, washable & antibacterial quality.
Size Chart: It is available in four sizes, to get a perfect fit on your thighs circumference 4 inch above your knee. Refer to the size chart below-

Small : 13′ – 15.5′
Medium : 16′ – 18′
Large : 18.5′ – 21′

Extra Large : 21.5′ – 23.5′

Small : 13′ – 15.5′
Medium : 16′ – 18′
Large : 18.5′ – 21′
Extra Large : 21.5′ – 23.5′

Grip Lock: It has an anti grip property. Due to the presence of double silicon gel in the strip, when someone is doing some intensive activities, it does not slip down.
3) OxOFit Pain Relief Compression Sleeve Knee Braces for Men and Women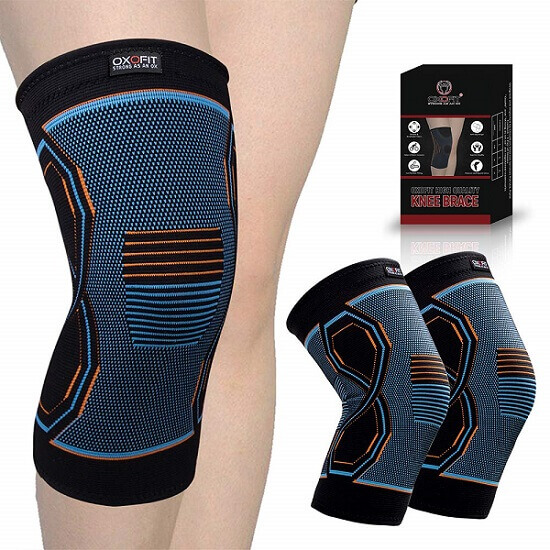 Oxofit offers a knee brace made up of high performance fabric which provides optimal muscle support to your knee and leg.
Key Features:-
360° Protection: Oxofit provides 360° protection to knee joints and its nearby muscle area that leads to fast recovery and gives relief from pain like ligament injuries, strains, sprains, and also helps to cure inflammation. Pressure gets equally distributed in the above and below portion of the knees.
Knee Support: It gives supreme quality support to knees and muscles that helps to perform intense activities such as basketball, football, tennis, weight lifting, gym workouts etc.
High Quality Fabric: Uses the premium level fabric that absorbs the sweat and is highly elastic and fits perfectly to your body shape. It is washable and protects the skin from any fungal infection.
Anti grip Property: Interior borders of the knee braces contain silicon gel that provides tight gripping. As it is stretchable, it gives compression according to the need.
You Might Also Be Interested in – How to Use Ankle Weights Effectively?
4) Tynor Knee Support Hinged (Neo) Compression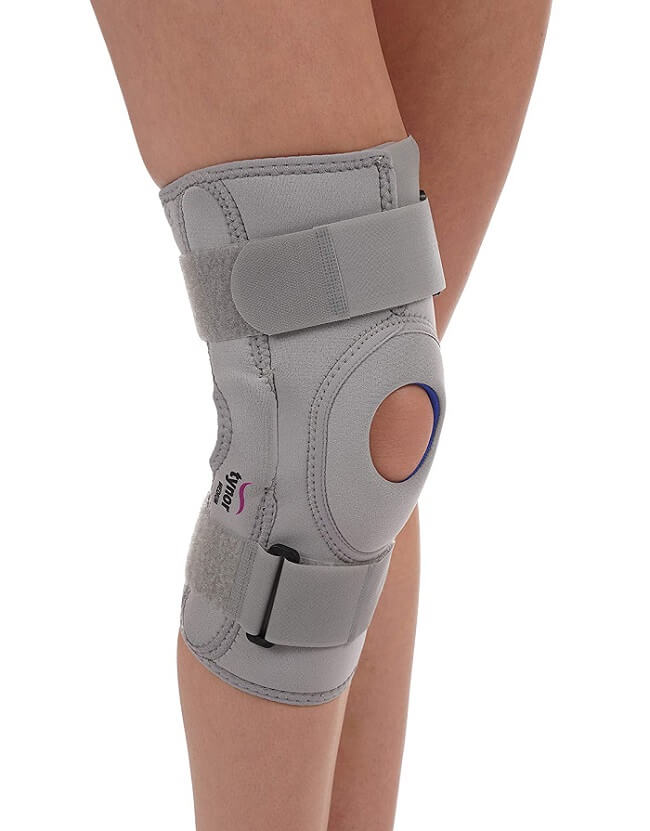 Tynor neoprene hinged knee support is an all-round knee brace that controls compression around the knee and gives rigid side support by allowing normal flexion and free movement to the knee joint.
Key Features:
Ergonomic Design: Provides better grip with proper blood circulation. It has high weight bearing capacity, so it is commonly used by the weightlifters.
High Quality: It is made up with Premium Nylon & Latex blend with ultra durable, breathable, washable & antibacterial quality.
Size and nature: Easy to use, light weight, and has good aesthetics with long functional life and durability. To get the appropriate fittings, measure the circumference around the mid thigh region approx 6 inches above knee and refer to your corresponding size in the size chart.
5) Hykes Knee Cap Compression Support Sleeve
Hykes is one of the leading manufacturing company in fitness accessories that offers premium quality products for both men and women. It has a wide range of products for running, jogging, gym, training, weight lifting, workout, squats, football, badminton and all other sports. Kykes knee Cap Compression Support Sleeve is of the top rated products among the users.
Key Features
Appropriate Fit: It is very comfortable to wear under clothes as it fits perfectly and can be used for daily purposes and also in sports related activities.
Sweat Proof: The knee sleeves are well designed with improved mixtures of breathable materials which makes it comfortable to wear without any sweat and can support all rough activities allowing full range of motion. It also helps for faster recovery from knee injuries or surgery and to get quick relief from pain.
Top-notch Grip with Accurate Size: It is specially designed to apply the required pressure without hindering the freedom of movement and has no chance of any blood clotting. It is available in four sizes and three color variants.
Final Verdict
These were the top five knee braces or sleeves based on various features, cost and customer ratings. All are good in some ways or the other and you should buy according to your budget and need. According to me, you can go with the Obliq Hinged Knee Braces which uses non-slip silicon gel for running.
FAQs
Q1) Who can use knee braces?
Ans) Knee Braces can be used by anybody who has a knee injury, have undergone surgery, athletes, sports persons, gym goers, weight lifters and elderly having joint pains. Various types of knee braces are available in the markets, and even doctors recommend it according to your needs.
Q2) Do knee braces give relief from knee pain?
Ans) Yes, specially designed knee braces provide relief to people who have arthritis, or joint pain called osteoarthritis. These braces are specially designed to shift the pressure from the affected knee area to the stronger area like the thigh bone by forcing the knee to bend faraway from the painful area and move around with ease.
Q3) When should I wear knee braces?
Ans) You can wear knee braces if you have undergone a knee surgery, any knee-related injury, sprains, swelling and even while indulging in gym, sports related activities such as running, hiking, intense leg workouts, and playing games.